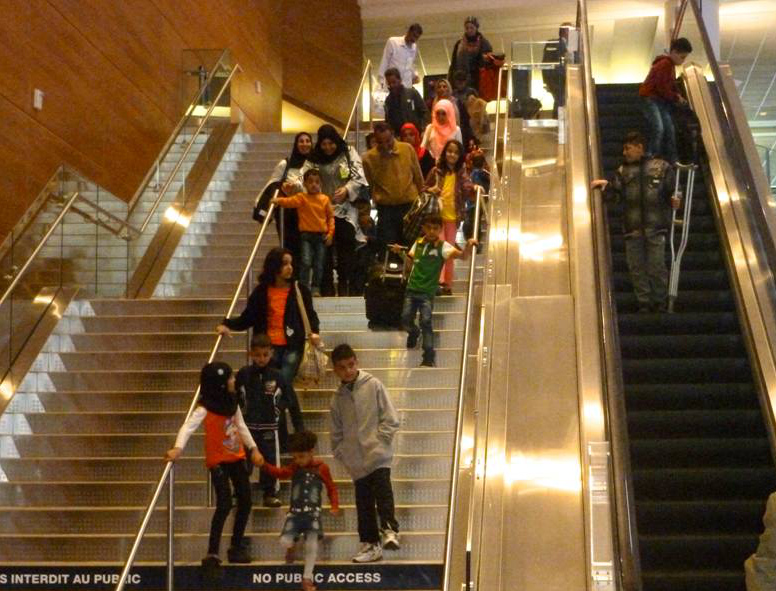 Come and give the three Syrian families a warm welcome at a Welcome Party on Saturday, October 24, 2-4 pm. There will be time for refreshments and visiting, music and a brief program to welcome, introduce and gift our families.
Previous updates:
The families arrived in Winnipeg on October 5, 2015:
The Syrian refugee families we are sponsoring have received approval to travel and should be arriving in Canada in early October. The refugee committee has rented apartments for two of the families and arranged for temporary accommodation for the third. Contributions are still needed toward the goal of $120,000.00 goal.
Westworth United Church is joining with other faith communities, including Muslim and Jewish, as well as secular organizations and individuals to sponsor three, large Syrian refugee families of 6 adults and 18 children. We need to raise $120,000 to support them for one year.
To date, just over $100,000 has been pledged. Of these pledges, we have received just over $90,000 dollars. If you would like to support this sponsorship either through monetary donations or volunteer time, please fill out the pledge form and send to Westworth United Church.
According to ACT Alliance:
8 million people inside Syria are still in need of urgent humanitarian assistance, many of them trapped in hard to reach areas
over 3 million Syrian refugees have fled to neighbouring countries
around 6.5 million people have been internally displaced in Syria owing to continuing violence
For more info, see the backgrounder sheet.
Backgrounder for REFUGE- August 2015
Update: Refugees may arrive by spring
Free Press Article – Feds to Pay for Only 40 Percent of Refugees
a.   Friday August 15, 2015 Free Press article  "Group Waits for Syrian Refugees"
http://www.winnipegfreepress.com/local/group-waits-for-syrian-refugees-321946391.html
Friday September 4, 201 5 Free Press article "Winnipegers Quilting for a Cause"
http://www.winnipegfreepress.com/local/winnipeggers-quilting-for-a-cause-324304381.html
Listen to the Information Radio interview with Barb Wynes (at the 36-40 minute mark):
http://www.theglobeandmail.com/news/national/religious-groups-make-leaps-of-faith-to-support-syrian-refugees/article26322617/