May the words of my mouth and the meditations of all of our hearts be acceptable to God.
In the 8th c BCE, what we now know as Israel and Palestine was divided into the northern kingdom of Israel and the southern kingdom of Judah. Although both kingdoms spoke the same language of Hebrew and followed the same faith of Judaism, there was tremendous animosity between these two kingdoms at that time. Assyria was threatening Israel and Israel asked Judah to help defend them against this foreign aggressor. Not only did Judah refuse to help Israel, but it actually encouraged Assyria to conquer Israel—which it subsequently did, destroying the northern kingdom in 721.
The prophet Isaiah was very concerned about Judah's collusion with a conquering nation but he had hope in Judah's next king who would replace the colluding king. This new king would come from the line of David and usher in the peaceable kingdom. This is the child to whom the prophet Isaiah was referring in our Old Testament reading. Later, Christians reinterpreted this passage to refer to the infant Christ, the Prince of Peace, whom we believe will usher in the peaceable kingdom for the whole world.
What does this peaceable kingdom look like? This passage paints two different pictures that are intended to be displayed beside one another. One paints a picture of justice, and where rulers use their power with wisdom and understanding. Compassion, not self-interest, is the motivation. Their knowledge is tempered by an awe of God and helps the ruler to know that their knowledge is only partial and limited, for God alone can see the whole picture. The ruler is not to make decisions by hearsay or even by what is directly seen or heard, because one seldom sees or hears the whole story. Instead, decisions need to be made by a principled approach that takes into account the particular needs of those who are poor and/or marginalized.
These are attributes of the new ruler who will usher in the peaceable kingdom. They are also the attributes of the common folk, like you and me, who are also part of God's plan to usher in this peaceable kingdom. You see, the kingdom or kin-dom of God is not just a future reality. It begins right now, right here. It is all around and within us, if we have eyes to see it. We are the hands and feet of the Prince of Peace. This means that you and I are called to use our power with wisdom and understanding, guided by compassion, not self-interest. You and I are called to remember that what we see and hear is only one side of any story. When you and I make judgements and decisions, such as who to vote for, where to invest our money, what organizations to support, we need to remember that what we know is only partial. To make judgements that are fair and just, we need to make particular efforts to hear the voices of those are shoved to the side. Their voices are soft and often falter. It is hard to make them out, to understand what they're saying, but to make decisions that are based in justice, we need to make an extra effort to hear them.
This is the first picture of justice that this passage paints. The second picture is one of peace amongst enemies. This picture dissolves the division between predator and prey. On the screen you will three paintings of Edward Hicks, who was a Quaker minister, living between 1780 and 1849 in the United States. These paintings are all titled "The Peaceable Kingdom". He painted at least 62 versions of this scene. I must admit that I looked through many of them, a wee disappointed that nary a mouse could be found! But I'm sure that a mouse snuggled against the cheek of a cat would fit in just fine!
In the background of each painting, you will see settlers and Indigenous people engaged in peace negotiations. For Hicks, the peaceable kingdom, described in Isaiah of predator and prey living peacefully together, was best illustrated by the living out of Treaty agreements. He was over two centuries ahead of his time.
But something happened to him as he continued to paint this inspirational scene over and over again. He grew increasingly disillusioned with the conflicts of his time, and especially within his religious community. As a result, his paintings began to slightly change. The predators no longer had a wide-eyed, glassy innocence, but took on more menacing expressions. Look closely at the lion in the centre of each picture. In this second picture, the lion begins to show teeth and the eyes are narrowed. The leopard is snarling at the front with its tail between its legs.  In this third picture, the lion is downright angry.
In the midst of the snarling and snapping around him, Hicks was still determined to uphold and live into the vision of the peaceable kingdom. The war of 1812 took its toll and tension between the north and the south in the U.S. was mounting. Although Hicks died two years before the Civil War broke out, he feared the increasing animosity. And yet, he continued to paint the peaceable kingdom.
I think that Hicks' later portrayals of the ferocity of predators are more powerful in their juxtaposition with peace. They also better reflect our fears and present-day conflicts. Many parents and grandparents of young children are afraid for the health of their children. Many seniors are afraid of both health and isolation. Homelessness, addictions, mental health crises are all increasing. We are living in unstable times in the world with climate crises, wars and internal conflicts. I just read that income inequality is growing at an alarming rate in Canada. We continue to struggle with colonial injustice on reserves and racism in general.
Our Moderator, Rt. Rev. Carmen Lansdowne, wrote an excellent reflection, in the latest Broadview magazine, on today's lectionary passage from the Gospel of Matthew. The last sentence we heard from today's gospel reading jumped out at her: "Bear fruit worthy of repentance." In the face of these crises in Canada and the world, she asks us what fruit worthy of repentance might look like. We may feel that we as individuals or as a church can't do much to make a difference, but she then asks some very challenging questions that suggest that our decisions and judgements really do make an impact. She writes, "When we expect governments to deal with social issues, but also expect our taxes to decrease, we are not bearing fruit worthy of repentance. When we say we want to take meaningful action on reconciliation, but then don't hold our employers and governments accountable for that meaningful action, we are not bearing fruit worthy of repentance."
In this season of advent, we are called to do the hard work of inner reflection. Are there things that we need to change that will be more faithful to the vision of the peaceable Kin-dom? One of them might be to resist a feeling of fatalism. Karen Ridd once told me that despair is a first world luxury. Yes, there is a lot of fear and discouragement. But we can't give up. Hicks continued to dream of the miracle of peace within his time of growing discontent. Let's believe that our decisions will make a difference—as incremental as they might be.
Carmen Landsdowne continues,
For me, this is what the season of Advent is for: it's a time for reflection, recentring our minds on that hope and for dreaming of what is possible. When the Christ child arrives—and we can imagine their tiny hands and feet, the newborn face scrunches as they lie in contentment—all things are possible. It's a relatable feeling. We feel it when we hold our children, our grandchildren or our niblings (a non-gendered words for our siblings' children) for the first time. We want the very best for them, and their new life is full of promise.
Humans are amazing when we stay in a posture of hope and possibility. And hope and possibility are what we need if we truly want to bear fruit worthy of repentance.
We believe that we are not alone and that we live in God's world, who has created and is creating. We believe that we are called by God to co-create a world where we can live, and live in abundance. Let this Advent be a season of reflection for the world we love and the world we could almost be—if only we would bear fruit worthy of repentance.
This is a powerful challenge from our Moderator. The Prince of Peace is counting on us to be their hands and feet so that we can best prepare the way, with Christ, for the peaceable Kin-dom of God.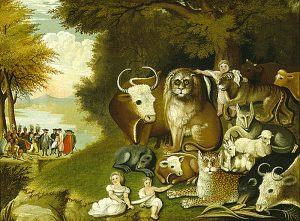 Edwards Hicks born April 4, 1780, Attleboro, Pa., U.S.—died Aug. 23, 1849, Newtown, Pa., 'The Peaceable Kingdom', 3 of possibly 100 versions