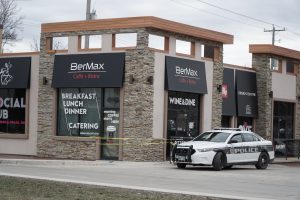 An Interfaith Prayer Vigil in support of the Jewish Community in light of the antisemitic violence at the BerMax Caffé & Bistro will be held on Thursday, April 25, 6:30-7:30 pm
at Westworth United Church, 1750 Grosvenor Ave.
On April 18, the eve of the Jewish celebration of Passover, antisemitic violence was directed at people and property at the BerMax Caffé & Bistro. This was the 4th time in 5 months that BerMax was vandalized with spray-painted words of antisemitic hate, only this time, the violence included assault and the vandalism appeared more extensive. This exacerbated level of antisemitic hate has been the worst in Winnipeg in recent history.
Belle Jarniewski, Executive Director of the Jewish Heritage Centre of Western Canada says, "We are witnessing are sharp and frightening increase in antisemitism worldwide. This shocking incident reflects the importance of us coming together as a city, a province, and a country to stand up against hate."
Rev. Loraine MacKenzie Shepherd, minister at the neighbouring Westworth United Church, says "It is our Christian responsibility to stand strongly in solidarity beside anyone who is the target of violence and to address the fear and hate that drives this intolerance."
Westworth United Church has just concluded a four-week Interfaith Dialogue series that has brought together people from various faith traditions across Winnipeg as they seek to respond to the Truth and Reconciliation Calls to Action.
To continue this journey of reconciliation, Westworth invites all faith communities within Winnipeg to come together in prayerful support of the victims of antisemitic hate crimes. "There is no room in our city of Winnipeg for hate, terror or violence directed against Jews or any other group of people. We will continue to build bridges of compassion and understanding," Shepherd states.
Prayers and remarks will be offered at the vigil from different faith traditions for support of the Jewish community and for healing and compassion.
For more info contact Rev. Loraine MacKenzie Shepherd at (204) 489-6974 (church).
Or Belle Jarniewski at (204) 295-3947