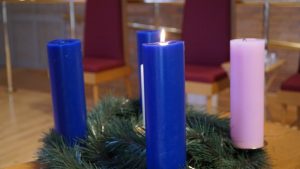 Join us for worship as we celebrate Advent and Christmas.
November  27 @ 10:45 am: Hanging of the Greens service for all ages, followed by cupcakes made by the youth to help our sister church in Luyanó, Cuba, celebrate its 100th anniversary
Dec 4 @ 10:45 am: Second Sunday of Advent with communion
Dec 4 @ 7:30 pm: Taizé Advent Prayer with meditative chants, flute and cantor (see below for more info)
Dec 11 @ 10:45 am: Third Sunday of Advent
Dec 18 @ 10:45 am: Fourth Sunday of Advent
Dec 18 @ 6:45 pm: Lessons & Carols with Choir & Westworth Winds
Dec 24 @ 7:00 pm: Family Service with première screening of youth play: "The Mysterious Animal"
Dec 24 @ 9:00 pm: Carols, Candles and Communion
Dec 25 @ 10:30 am: Westworth is invited to St. Andrew's River Heights for their Christmas Day service
Jan 1 @ 10:00 am: Worship Around the Breakfast Tables with informal communion. St. Andrew's is invited to join us.
Taizé Advent Service
We are pleased to finally resume our Taizé services after 2 ½ years on hold. On Sunday, December 4 at 7:30 pm, we invite people to come to the parlour for a candle-lit, meditative service of chants. Any who wish to practice vocal parts or play an instrument, please come to an earlier rehearsal from 6:00-7:00 pm. Masks are strongly recommended and chairs will be spaced out.