Rev. Tricia Gerhard (Minister)
minister@westworth.ca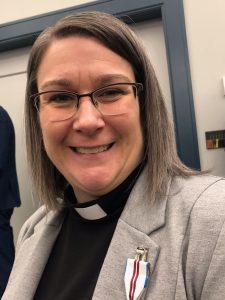 Tricia Gerhard joined us as Minister on July 1, 2023.    Born and raised in Vancouver, she earned her Bachelor of Arts degree in 2000 from the University of British Columbia.  A Diploma of Christian Studies in 2001 and a Master of Divinity in 2004 from the Vancouver School of Theology followed.  Upon graduation, Tricia moved to the prairies.  She considers them 'home' now, although enjoys visiting family in B.C.
In her almost 20-year ministry in Saskatchewan, Tricia worked in both rural and urban charges.  Most recently, she led the congregation of Sunset United Church in Regina during the challenges of COVID.  In 2022, she was awarded a Queen Elizabeth Platinum Jubilee Medal (Saskatchewan) for service in religion.
Tricia is passionate about offering 'contemporary-traditional' worship services.  She links traditional liturgy with contemporary theology, allowing the church to evolve to meet the needs of the present and the future. She is comfortable with technology, believing live-streaming and an online presence are essential components of ministry, and uses innovative ways to engage children, youth and families in the work of the church.  Tricia is pleased to join an Affirming congregation as she strongly supports advocacy and inclusion for the 2SLGBTQ+ community.  Given her belief in engagement in the wider church, she became a Commissioner to the United Church General Council (2022-2025).
Tricia's move to Winnipeg was a family decision precipitated by her husband David's career move.  She and David are parents to teens Sophia and Jacob, and Sparky, their dog.  Prior to coming to Westworth, she provided pulpit supply to several Winnipeg churches.  When not at work, she enjoys spending time with friends, reading, listening to Podcasts, playing board games, exploring Winnipeg, and spending time at the cottage on Lake of the Woods.

Christine Strike (Office Administrator)
office@westworth.ca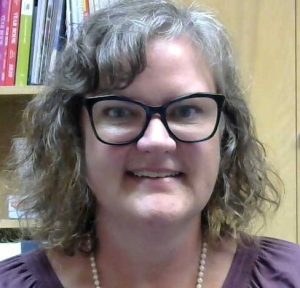 Christine started in the role of Office Administrator Sept 12, 2022. She has a Bachelor of Fine Arts and a Certificate in Project Management with a history of working in community minded organizations. She and her husband, Aaron, their daughter Genevieve, and dog Keelo spend time together at the cottage all year round enjoying water activities, sitting around the fire and the sunsets. Christine loves the outdoors, curling, baking (decorated sugar cookies & pies), crocheting, and biking.
Melanie Adams (Custodian)
custodian@westworth.ca
Melanie joined the Westworth Team in December 2022 adding her positive can do attitude to everything she does.
Katie Anderson (Youth Minister)
churchschool@westworth.ca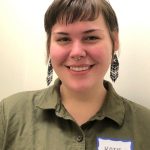 Megan Dufrat (Collaborative Pianist)
Valdine Anderson (Music Director)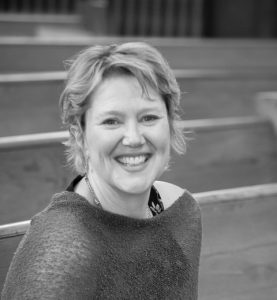 Valdine Anderson joins Westworth as Music Director in September 2023. Valdine is the artistic director of Pembina Trails Voices (PTV) and Esprit de Choeur Women's Choir. An award-winning soprano, she holds a post-graduate Opera Diploma from the University of Toronto and a Bachelor of Music degree (Voice Performance) and Bachelor of Education degree (Choral Music). Valdine studied at the Banff Centre for the Arts and the Britten-Pears School for Advanced Musical Study and was the recipient of two major Canada Council of the Arts career grants for solo voice performance. Her musical background includes extensive study in piano and flute.
Choral highlights for Valdine include an invitation for Esprit de Choeur to participate at the Tapestry International Festival for Women's Choirs in Vancouver in 2015, touring to Iceland with Esprit de Choeur and performing at the Harpa Concert Hall in Reykjavik in 2018, touring to England and Wales with PTV Singers, winning third prize at the International 2019 Llangollen Music Competition, and winning third prize in the CBC 2019 National Choral Competition with PTV's Cantemus. Commissioning new works for her choirs has included David R. Scott's a cappella song cycle White Field and Neil Weisensel's Incandescent for treble voices and pipe organ. Upcoming choral events for Valdine's choirs include a jazz collaboration with Ron Paley and a new commission by Sarah Quartel.
Valdine Anderson's career in concert and opera as an international soprano soloist spanned over two decades, working with most of the major orchestras in the world including the New York Philharmonic, the Berlin Philharmonic, the Chicago Symphony Orchestra, the Chamber Orchestra of Europe, the London Symphony Orchestra, the Netherlands Radio Philharmonic Orchestra, Ensemble Intercontemporain, and all the orchestras in Canada. Conductors and composers that Valdine has worked with include Pierre Boulez, Thomas Ades, George Benjamin, Georg Kurtag, Sir Simon Rattle, Daniel Barenboim, Winton Marsalis, Sir Colin Davis, David Robertson, Edo de Waart and Bramwell Tovey.
Her recordings include Witold Lutoslawski's Chantefleurs et Chantefables recorded with the composer conducting, Thomas Ades' Five Elliot Landscapes performed with the composer, Eliot Carter's opera What Next which was shortlisted for a Grammy nomination, Michael Torke's Book of Proverbs, and many more. Her recording of Mahler's 4th Symphony with the BBC Scottish Symphony Orchestra won a Prairie Music Award, and her recording of Powder Her Face by Thomas Ades was nominated for a Grammy Award in 1999.
Valdine Anderson serves at the Desautels Faculty of Music at the University of Manitoba on the voice faculty and maintains a private voice studio. Valdine Anderson is a regular juror for Canada Council for the Arts, and for provincial, national and international music competitions.
Valdine Anderson lives in Winnipeg with her partner Ian Baragar and enjoys spending time at their cabin in the Whiteshell Provincial Park. She has four daughters, and two granddaughters.
Jenny Jeffers (Church Accountant)
churchaccountant@westworth.ca