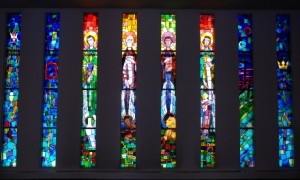 Please consider a special donation to upgrade and maintain our sanctuary windows. The Leo Mol stained glass windows in the chapel require protection and the windows on the north side of the sanctuary need to be replaced.
Questions and Answers
In order to answer some of the questions members have asked about the Sanctuary Window upgrade planned for Westworth, this Q & A has been prepared.
What is planned?
Protecting the Leo Mol heritage stained glass windows
The 8 stained glass windows in the Chapel adjacent to the Sanctuary were created by renowned artist Leo Mol and installed in 1959. These delicate windows require new tempered glass external protection. The current heavy plastic protection is deteriorating. This requires careful removal and re-installation along with sealing. Estimated cost is $10,000.
Replacing the North Windows
The 12 windows on the north side of the Sanctuary need to be replaced. The frames are rotting and there are drafts and heat loss. The windows will be replaced with new frames containing high efficiency triple E argon filled glass windows. These windows will include a vinyl translucent tinting and 10 will have an awning opening for fresh air.
New windows will help reduce our energy footprint, steward our financial resources and make sitting beside natural light a more pleasant experience. Estimated cost is $40,000.
What is the timing?
Work is planned to start in the spring of 2020.
What is the cost?
The total estimated cost based on quotes received is $50,000.
How is the project being funded?
There are 4 sources of financial support being sought.
United Church of Canada Faithful Footprints Grant.
The Winnipeg Foundation.
Manitoba Building Sustaining Communities Grant – Province of Manitoba.
Individual donations. All are eligible for a charitable tax receipt.
How can I make a donation?
Cheques – Make payable to Westworth United Church, please indicate "Window Project" in the memo line. Cheques may be post-dated.
On-line – Use www.westworth.ca and click the Donate button at the top of the page. Please indicate in the message space that the funds are for the "Window Project".
E-transfer – Send the donation to donate@westworth.ca and add a message that the donation is for the "Window Project". Please send a separate email with the password to access your donation.
Cash – Enclose in an envelope along with a note to indicate it is for the "Window Project". Please include your name and contract information so we may provide a receipt.
Can I make a pledge over time?
Certainly. Please contact the office at 204-489-6974 Ext. 20 and speak to Heather to indicate your plans.
What if we raise more money than is needed?
Any funds received in excess of the project costs will remain in the Building Account and be used for other building repairs and upgrades.
Thank you. Your interest and generosity are appreciated.